KUALA LUMPUR, 11 August 2012: As a caring corporate citizen, Bridgestone Tyre Sales (M) Sdn Bhd has taken a series of initiatives as part of its Corporate Social Responsibility to promote road safety and green motoring during this festive season.
Based on findings by the Malaysian Institute of Road Safety Research (MIROS), more than 400,000 road accidents with over 6,000 traffic fatalities were recorded in 2010. This was supported by statistics from the Road Safety Department of Malaysia which showed the increase of fatal accidents in the past five years.
In view of heavy traffic anticipated during the Balik Kampung rush, Bridgestone recently organized a FREE Tyre Safety Inspection for motorists.
Mr. Yoichi Kono, Managing Director of Bridgestone Tyre Sales (M) Sdn Bhd explained, "Bridgestone is playing a proactive role in promoting a safe and pleasurable motoring experience for customers, while helping them conserve natural resources. This is achieved through continual improvement of products and services, as well as implementation of our corporate social responsibilities."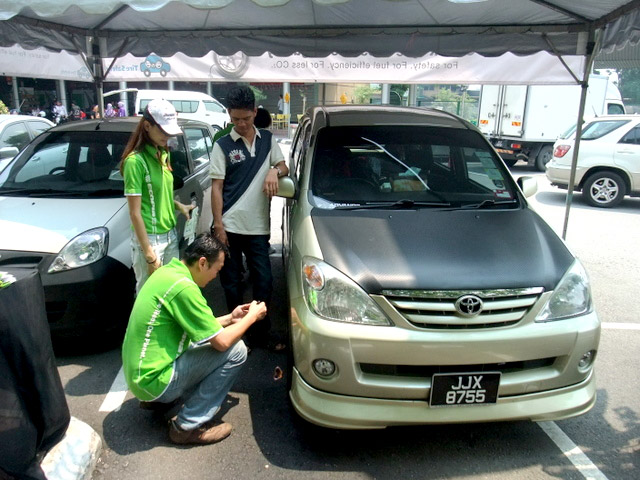 Bridgestone personnel conducting a tyre pressure check at Tyre Safety Pitstop located at Sungai Buloh R&R area.
A well-maintained car with properly inflated tyres not only ensures greater safety on the road, but also helps to reduce fuel wastage and gas emissions. This in turn contributes to a more pleasurable drive and a greener future for all.
With this in mind, Bridgestone offered motorists travelling on the PLUS Expressway a FREE Tyre Safety Inspection at Sungai Buloh R&R area, North Bound on 11 August. In the spirit of festive celebration and as token of appreciation for customers' support, goodie bags and mini festive hampers were given away by Bridgestone to motorists after having their vehicles checked. Each goodie bag and mini hamper contained
'Make Cars Green Tips', confectionery and festive goodies.

Tyre Safety Tips and festive goodies being distributed at the PLUS NKVE toll plaza.
The free tyre inspection has been one of the company's annual CSR events since 2006. Bridgestone hopes that by incorporating the Make Cars Green tips into the tyre safety campaign to serve as a channel for Bridgestone to inform the public on the 10 simple guidelines for green motoring. The Make Cars Green campaign is a collaborative effort between Bridgestone and FIA Foundation (Federation Internatiole de l'Automobile). It aims to reduce the impact of motoring on our planet by encouraging safe and eco-friendly mobility. The campaign emphasises the need to correctly inflate car tyre pressure for a greener environment and also for safer driving.
Another Bridgestone's green effort is the 'One Tyre, One Good Deed' campaign which is currently running. During the campaign period, Bridgestone pledges to contribute RM1 towards a tree planting initiative for every Ecopia, Turanza and B-Series tyre sold. The proceeds will facilitate the rehabilitation efforts by Global Environment Centre (GEC) at selected forest reserves.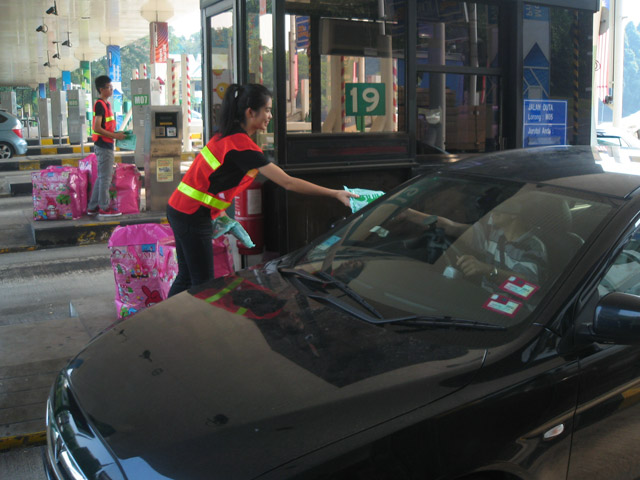 Group photo of Bridgestone Malaysia staff at Tyre Safety Check booth, Sungai Buloh R&R
As a move to ensure a safer journey during this festive season, Bridgestone is offering free 46-point car safety check at all Bridgestone AutoCare & Tyre (ACT) centre and 10-point car safety check at any Bridgestone PRO Shop nationwide. For more details, log on to www.makecarsgreen.com or call 1300-88 - 2168.
SOURCE: Traffic accident statistic - The Star May 22, 2012
About Bridgestone
Bridgestone Corporation, headquartered in Tokyo, is the world's largest manufacturer of tyres and other rubber products. While tyre contributes significantly to Bridgestone Group's sales worldwide, Bridgestone also manufactures industrial rubber and chemical products, sporting goods, and other diversified products.
Bridgestone Tyre Sales (Malaysia) Sdn. Bhd. is an affiliate of Bridgestone Corporation. The company was set up in April
2000 with the aim of providing exceptional customer service and to introduce quality products for the benefit of Malaysian consumers. The company offers a wide range of tyres, tubes and flaps for passenger cars, 4X4s, light trucks, trucks & buses as well as industrial & agricultural vehicles and machinery.
About GEC
Global Environment Centre was established in 1998 to work on environmental issues of global importance. The centre is registered in Malaysia as a non-profit organization. GEC works regionally and internationally both directly and through many partners. GEC supports information exchange and capacity building as well as undertakes strategic projects particularly in developing countries. GEC's mission is to support the protection of the environment and sustainable use of natural resources to meet local, regional and global needs through strategic partnerships with like-minded organizations/agencies/body and communities.