Malaysia, 5 January 2018 – Bridgestone Tyre Sales (Malaysia) Sdn. Bhd. (Bridgestone Malaysia), an affiliate of Bridgestone Corporation, the world's leading rubber and tyre company, officially authorized Sime Darby Industrial Sdn Bhd to sell and distribute Bridgestone Off-the-Road tyres in Malaysia.
In Malaysia, Sime Darby operates in multiple major sectors such as industrial, motors and logistics sectors, as well as healthcare, insurance and retail segments. Through this distributorship, Sime Darby Industrial Sdn Bhd will supply Bridgestone Off-the-Road tyres to customers mainly from the real estate / property developer and plantation sectors.
With Sime Darby's wide coverage across multiple sectors, together with Bridgestone's experience in providing products to similar sectors, this partnership will facilitate the penetration of Bridgestone products to more platforms such as mining and construction, which are anticipated to experience robust growth in the near future. This collaboration will enable the delivery of high quality products and services to the Malaysian market, while creating sustainable value to customers.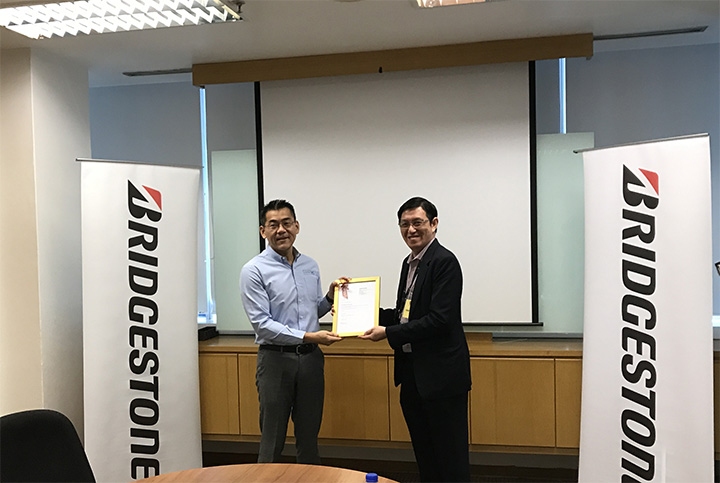 Mr CK Teoh, Managing Director of Sime Darby Industrial Sdn Bhd (left) receiving the distributorship certificate from Mr Francis Lau, General Manager of BSTM Finance and Operations (right).
The distributorship agreement was signed in the presence of Mr CK Teoh, Managing Director of Sime Darby Industrial Sdn Bhd, Mr David Low, Branch Operations Manager of Sime Darby Industrial Sdn Bhd together with Mr Francis Lau, General Manager of Bridgestone Malaysia Finance and Operations, and Mr Ihara Shumman, Manager of Bridgestone Malaysia Commercial Marketing.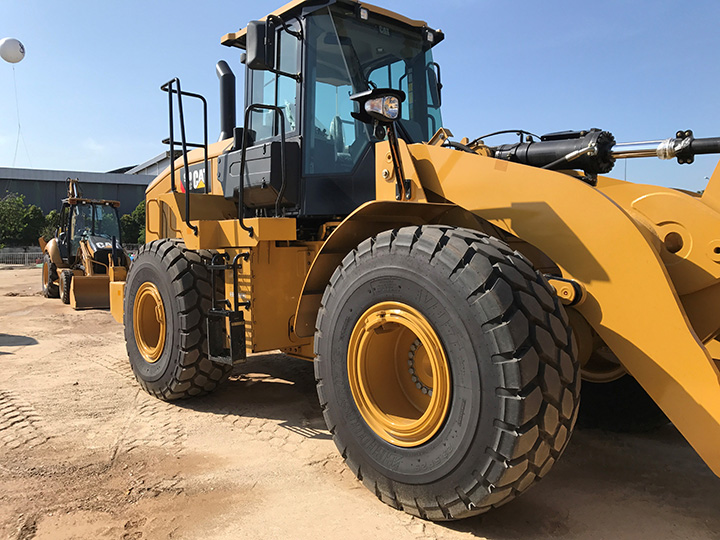 Bridgestone OTR tyre mounted on CAT excavator and displayed at Sime Darby Tractors Engineering Complex
On 18 December 2017, Bridgestone Malaysia was invited to attend and participate in Sime Darby's 88th Anniversary of its dealership with Caterpillar Tractors in Malaysia. The event was attended by some 1,300 of Sime Darby's stakeholders. The event provided a great platform for Bridgestone Malaysia to promote the "VIP on Board" campaign and offered an opportunity to showcase Bridgestone Malaysia products to all participants, a first of many steps in the partnership between Bridgestone Malaysia and Sime Darby.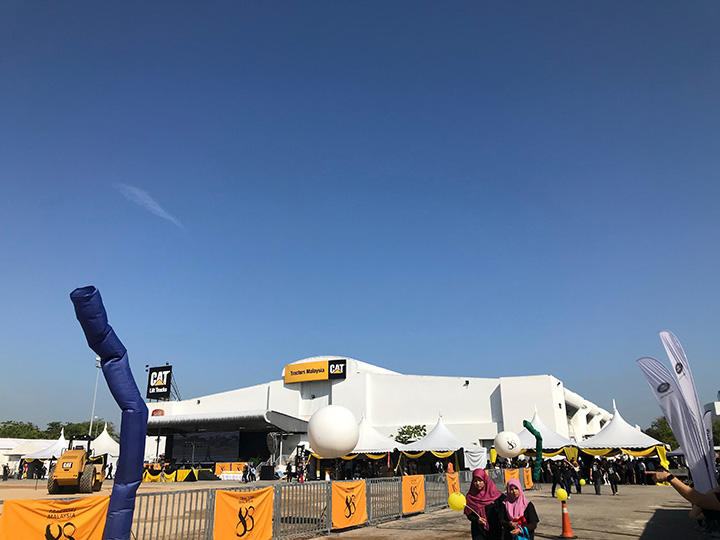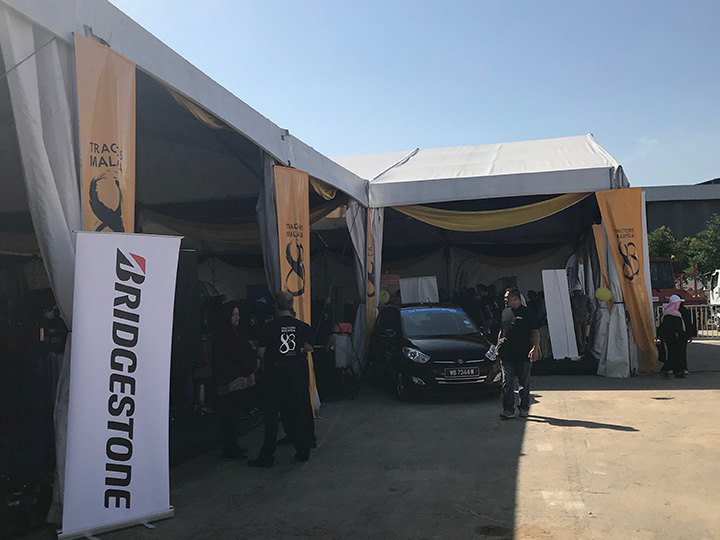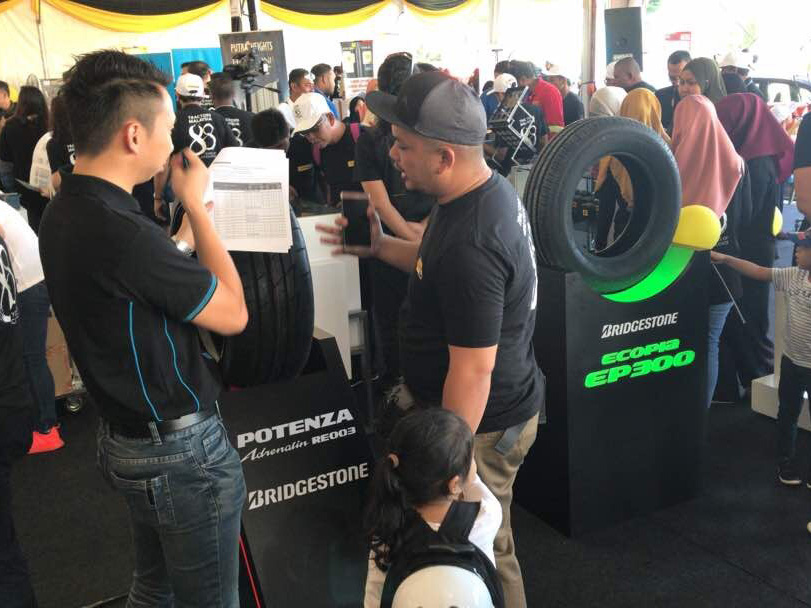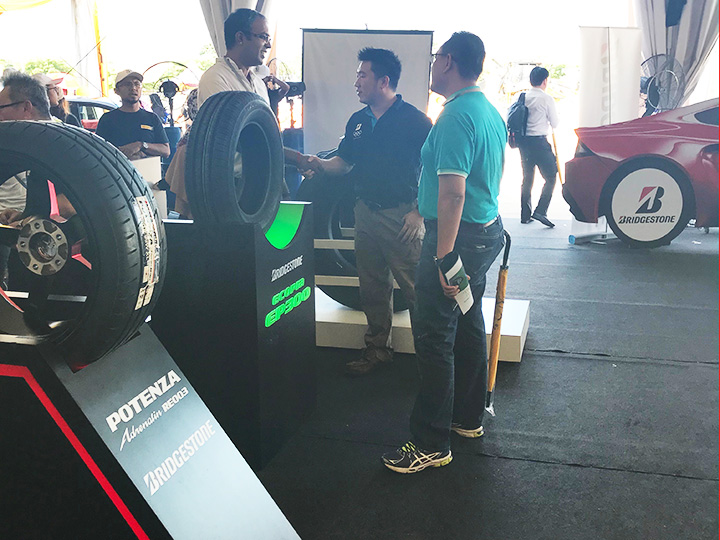 BSTM involves in Tractors Malaysia 88th Years Anniversary Celebration Carnival with displays both PSR and TBR tyres. Participants enquiry information about tyre fitment and tyre pattern with BSTM sales representatives.
About Bridgestone
Bridgestone Corporation, headquartered in Tokyo, is the world's largest manufacturer of tyres and other rubber products. While tyre contributes significantly to Bridgestone Group's sales worldwide, Bridgestone also manufactures industrial rubber and chemical products, sporting goods, and other diversified products.
Bridgestone Tyre Sales (Malaysia) Sdn. Bhd. is an affiliate of Bridgestone Corporation. The company was set up in April 2000 with the aim of providing exceptional customer service and to introduce quality products for the benefit of Malaysian consumers. The company offers a wide range of tyres, tubes and flaps for passenger cars, 4x4s, light trucks, trucks & buses as well as industrial & agricultural vehicles and machinery.
About Sime Darby
Sime Darby Industrial Sdn.Bhd forms part of Sime Darby Industrial Division, a core division of the multinational Sime Darby Group. Sime Darby Industrial covers the Asia Pacific region with operations in Australia, Brunei, China, Christmas Island, Hong Kong, Malaysia, Maldives, New Caledonia Papua New Guinea, Singapore and Solomon Islands.
The company operates the Caterpillar heavy equipment business under the Tractors Malaysia dealership a leading brand for marketing of premium heavy equipment in Malaysia. Its partnership with Caterpillar, New Holland and Kubota agricultural tractors, Terberg terminal tractors, GE PII Pipeline Solutions, Perkins engines, and Omega container handlers.