5th year fighting against cancer with National Cancer Society Malaysia
Malaysia (29 July, 2019) – Bridgestone Malaysia participated Relay For Life held at Dataran Petaling Jaya on 27 July, 2019, which the event was organized by National Cancer Society 'Malaysia (NCSM). It has been a remarkable 5 years journey for Bridgestone Malaysia to become the main sponsor in supporting the NSCM's marquee event, Relay For Life Kuala Lumpur 2019. Relay For Life is a franchised event from the American Cancer Society (ACS) to promote cancer awareness, which runs in over 20 countries across the globe. Bridgestone Malaysia had contributed RM90,000 of sponsorship this year and active staff participation further contributed additional RM3,990.
This fund raising carnival is the second community activity Bridgestone Malaysia collaborates with NCSM in 2019 with the aim to support people in Malaysia by promoting healthier communities. Around 100 Bridgestone Malaysia staffs and their family members participated in this meaningful event. Together with cancer survivors, their caregivers and publics, they took turns to walk on a track for 8 hours from 4pm -12am on 27th July (Saturday) in support of cancer awareness, and to pay tribute to those who has lost their battle against the disease. Bridgestone Malaysia had a booth in the event providing various activities. Participants seen enjoying the massage service provided by visually challenged masseurs after a long walk and children were having fun at the kid's area doing artworks with their parents in Bridgestone's booth.
Yuichiro Shirai, Managing Director, Bridgestone Malaysia said "This community-worthy initiative brings positive impact to Malaysia's society in a multifaceted level". " This initiative further reflects our CSR (Corporate Social Responsibility) commitment "Our Way to Serve" by using our strengths and competencies to address health, education and other pertinent issues and supports communities by enhancing the way people move, live, work and play".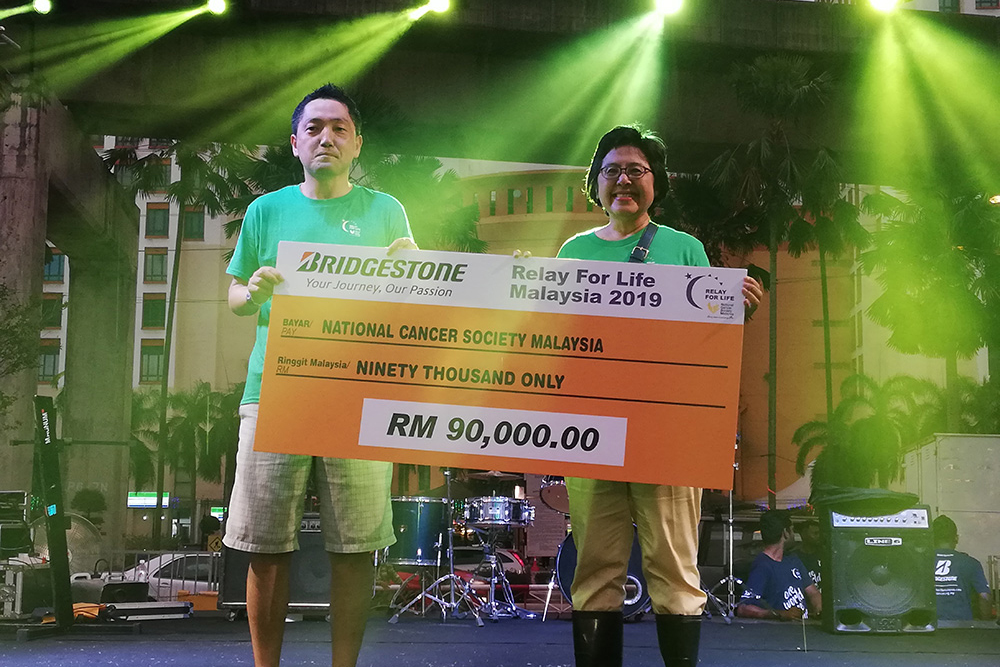 ---
About 'Our Way to Serve'

Launched in 2017, "Our Way to Serve" is Bridgestone's redefined global corporate social responsibility (CSR) commitment centred around three priority areas: Mobility, People and Environment. "Our Way to Serve", reflects the company's longstanding philosophy of 'Serving Society with Superior Quality' and is a recognition that the best companies not only perform for their stakeholders, but also contribute to a better world. For more information, please visit here
About Bridgestone
Bridgestone Corporation, headquartered in Tokyo, is the world's largest manufacturer of tyres and other rubber products. While tyre contributes significantly to Bridgestone Group's sales worldwide, Bridgestone also manufactures industrial rubber and chemical products, sporting goods, and other diversified products.
Bridgestone Tyre Sales (Malaysia) Sdn. Bhd. is an affiliate of Bridgestone Corporation. The company was set up in April 2000 with the aim of providing exceptional customer service and to introduce quality products for the benefit of Malaysian consumers. The company offers a wide range of tyres, tubes and flaps for passenger cars, 4x4s, light trucks, trucks & buses as well as industrial & agricultural vehicles and machinery.
About National Cancer Society Malaysia & Relay For Life
The National Cancer Society Malaysia (NCSM) is a registered, tax exempt charity body established in 1966, under the laws of the Malaysian Societies Act and Registrar of Societies Malaysia, and is the first cancer related NGO in the country that provides education, care and support services for people affected by cancer. NCSM was founded by Dato' Dr S.K. Dharmalingam and launched by the YAB Tun Abdul Razak. It is now under the distinguished patronage of the Sultan of Perak. The Society is financed entirely by voluntary contributions from the public.
Being the only charitable organization that provides holistic cancer support to patients and caregivers, NCSM takes them through their journey in understanding and dealing with cancer in various phases through its four cancer centres – Cancer & Health Screening Clinic, Nuclear Medicine Centre, Resource & Wellness Centre and the Children's Home of Hope and branches in six states – Johor, Negeri Sembilan, Melaka, Perak, Penang and Sarawak.
Relay for Life (RFL) is a worldwide movement that aims to spread the key messages about cancer as well as raise much needed funds for cancer services. It started in USA, under the American Cancer Society. RFL is a franchised event from the American Cancer Society (ACS) and runs in over 20 countries. In Malaysia, RFL is organised by NCSM in 3 states i.e. Penang, Kuala Lumpur & Melaka, started in 2005 at Penang, 2007 at Kuala Lumpur & 2011 at Melaka. RFL is basically National Cancer Society Malaysia's (NCSM) biggest annual cancer awareness and fundraising event which also celebrates cancer survivorship. It is a 16-hour event to symbolise the cancer journey from sun-up to sundown. Every relay event has a track which cannot be left unattended for 16 hours straight. RFL is also made up of stage performances, F&B stalls, in-field games, activities and sponsors booths.