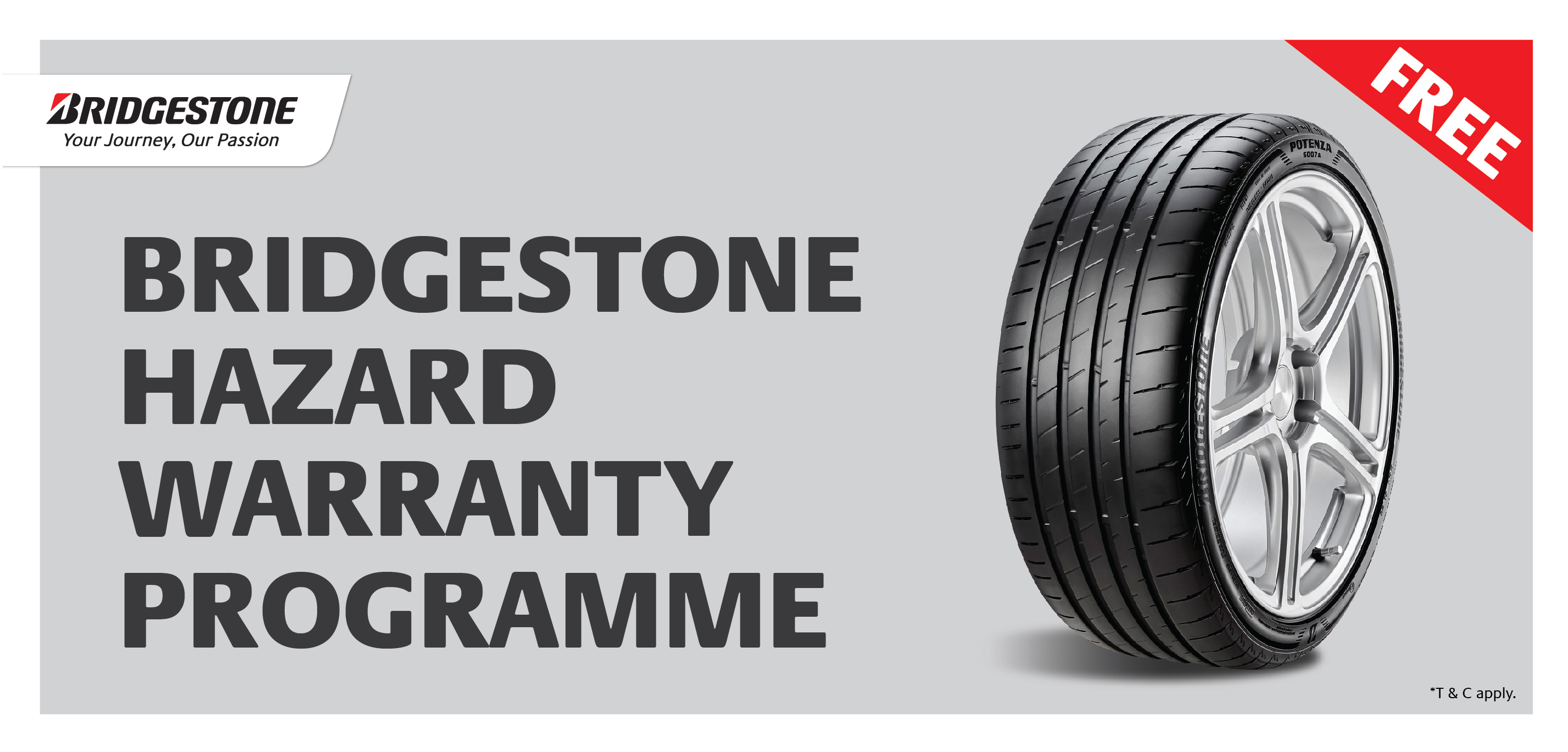 April 1st, 2019 - Bridgestone Tyre Sales (Malaysia) Sdn. Bhd. launches the "Bridgestone Hazard Warranty Programme" (HWP), a tyre warranty programme that offers Free tyre replacement for Bridgestone tyres that have been damaged due to road hazards (subject to certain terms and conditions).
Announced at the recent Bridgestone Dealers Conference which was held at Dorsett Grand Subang, effective 1st April 2019, HWP is applicable to all Bridgestone brand passenger car tyres, MPV and SUV tyres, 4x4 tyres (H/T, H/P & H/L) that are 17" and above which are distributed by Bridgestone Tyre Sales (Malaysia) Sdn. Bhd. and purchased from participating Bridgestone dealers in Peninsular Malaysia. However, the All-Terrain (A/T) & Mud-Terrain (M/T) tyre categories which are designed for ON/OFF operation are not eligible for this programme.
"Bridgestone Hazard Warranty Programme is a value added programme aside from the existing Bridgestone standard tyre warranty. HWP provides 1-for-1 tyre replacement at no charge for tyre damage that is beyond repair caused by road hazards." said Mr. Yuichiro Shirai, the Managing Director of Bridgestone Tyre Sales (Malaysia) Sdn. Bhd.
"We are happy that more than 200 dealers are participating in this programme, enabling us to extend this warranty programme to our customers throughout Peninsular Malaysia. With the launch of the HWP, we believe that our customers will be able to have better peace of mind using our tyres" he continued.
For the convenience of the customer to enjoy the coverage of HWP, the registration of the tyres purchased will be done online at https://warranty.bridgestonetyre.com.my. Registration must be done within 14 days from the date of invoice and HWP warranty is valid for 6 months from the date of invoice.
For more details of HWP and to find out the list of participating dealers, kindly visit https://www.bridgestonetyre.com.my/en/customer-care/hazard-warranty-programme
---
About Bridgestone:
Bridgestone Corporation, headquartered in Tokyo, is the world's largest tyre and rubber company. In addition to tyres for use in a wide variety of applications, it also manufactures a broad range of diversified products, which include industrial rubber and chemical products and sporting goods. Its products are sold in over 150 nations and territories around the world.
Bridgestone Tyre Sales (Malaysia) Sdn. Bhd. is an affiliate of Bridgestone Corporation. The company was set up in April 2000 with the aim of providing exceptional customer service and to introduce quality products for the benefit of Malaysian consumers. The company offers a wide range of tyres, tubes and flaps for passenger cars, 4x4s, light trucks, trucks and buses as well as industrial and agricultural vehicles and machinery.