Protecting students from the harmful effects of smoking
Malaysia (19 April, 2019) – Bridgestone Tyre Sales (Malaysia) Sdn. Bhd. (Bridgestone Malaysia) announced today that it will support a School Smoking Cessation Programme "Hands That Shield" initiative led by National Cancer Society Malaysia (NCSM).
Bridgestone Malaysia will sponsor a total of RM90,000 for the programme. This will be the fourth consecutive year that Bridgestone Malaysia will be collaborating with NCSM for a social contribution initiative.
Smoking is a serious problem in Malaysia with more than 5 million reported smokers and the smoking rate in young people below 18 years of age in Malaysia is close to 20%. Smoking is directly linked to lung cancer as well as 15 others cancers and also indirectly linked to cardiovascular disease, lung disease, stroke and mental illnesses.
Given this situation, the "Hands That Shield" programme, in collaboration with the Ministry of Education and the Ministry of Health, aims to support teenage smokers in schools quit their habit via an intensive, personalised and targeted programme, consisting of a mix of group and personal sessions which includes counselling. There are 3 secondary schools in Kuala Lumpur selected to be sponsored exclusively, with a total of 2735 students who have already been screened.The goals for each school is very much focused on the screening and detection of the smoking status for their entire student population, enrolment of smokers into the 1-year quit-smoking programme and ensuring the quit rate of at least 70% of the enrolled participants.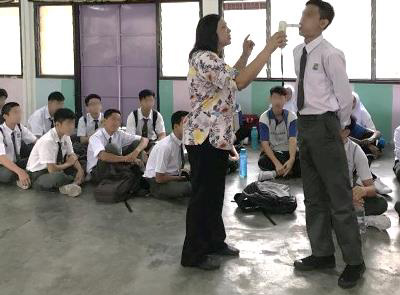 Smoking Cessation Specialist Sister Swinder does a Smokelyzer test on a student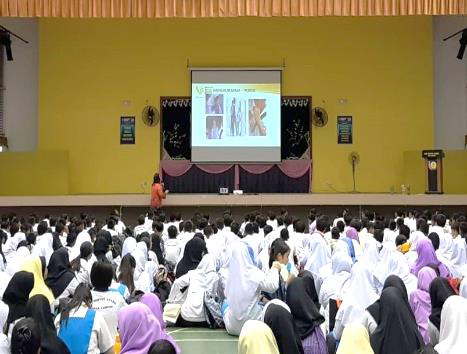 Sister Swinder gives a talk on the dangers of smoking to students
This programme is in line with Bridgestone Group's Global Corporate Social Responsibility (CSR)Commitment "Our Way to Serve" (OWtS) which is to improve the way people move, live, work and play. With a mission to promote a healthy community, the programme also contributes to United Nation's Sustainable Development Goal (SDG) which is good health and well-being as well as Malaysia's Ministry of Health's national agenda.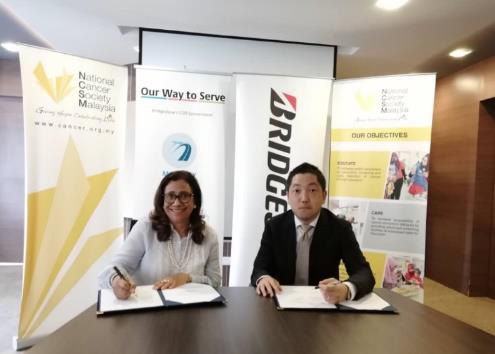 The MOU signing ceremony on April 19th, 2019 (From left to right) Clare Ratnasingham, Project Director, NCSM Yuichiro Shirai, Managing Director, Bridgestone Malaysia
During the ceremony, Yuichiro Shirai, Managing Director, Bridgestone Malaysia said "Corporate Social Responsibility (CSR) has always been part of Bridgestone's DNA and is reflected in the company mission of "Serving Society with Superior Quality". This initiative further reflects our commitment to embrace our responsibility as a global leader in the industry to protect our future generation and building safer and healthier communities in Malaysia."
Clare Ratnasingham, Project Director, NCSM said "We are very grateful to have Bridgestone Malaysia's continued support for NCSM through their generous donations and volunteers. We truly believe that this initiative will be a success and will go a long way in curbing smoking amongst teenagers and helping them practice a healthier way of life."
About 'Our Way to Serve'
Launched in 2017, "Our Way to Serve" is Bridgestone's redefined global corporate social responsibility (CSR) commitment centred around three priority areas: Mobility, People and Environment. "Our Way to Serve", reflects the company's longstanding philosophy of 'Serving Society with Superior Quality' and is a recognition that the best companies not only perform for their stakeholders, but also contribute to a better world.
For more information, please visit https://www.bridgestone.com/responsibilities/approach/index.html
About Bridgestone:
Bridgestone Corporation, headquartered in Tokyo, is the world's largest tyre and rubber company. In addition to tyres for use in a wide variety of applications, it also manufactures a broad range of diversified products, which include industrial rubber and chemical products and sporting goods. Its products are sold in over 150 nations and territories around the world.
Bridgestone Tyre Sales (Malaysia) Sdn. Bhd. is an affiliate of Bridgestone Corporation. The company was set up in April 2000 with the aim of providing exceptional customer service and to introduce quality products for the benefit of Malaysian consumers. The company offers a wide range of tyres, tubes and flaps for passenger cars, 4x4s, light trucks, trucks and buses as well as industrial and agricultural vehicles and machinery.
About National Cancer Society Malaysia
The National Cancer Society Malaysia (NCSM) is a registered, tax exempt charity body established in 1966 is the first cancer related NGO in the country that provides education, care and support services for people affected by cancer. NCSM was founded by Dato' Dr S.K. Dharmalingam and launched by the YAB Tun Abdul Razak. It is now under the distinguished patronage of the Sultan of Perak.
Being the only charitable organization that provides holistic cancer support to patients and caregivers, NCSM takes them through their journey in understanding and dealing with cancer in various phases through its four cancer centres – Cancer & Health Screening Clinic, Nuclear Medicine Centre, Resource & Wellness Centre and the Children's Home of Hope and branches in six states – Johor, Negeri Sembilan, Melaka, Perak, Penang and Sarawak.