10 October 2019, Malaysia – The Bridgestone World Solar Challenge, one of the world's most well- known solar car events returns in 2019, bringing together teams from all around the globe to challenge electric vehicle standards.
Bridgestone Tyre Malaysia showed their support as sponsor by giving a warm send-off to the sole Malaysian participant, Eco Photon Solar Racing Team from Universiti Teknologi Mara (UiTM), who will be representing the nation for the third time. To further encourage their commitment towards the event, Bridgestone sponsored "ECOPIA with ologic" tyres from vehicle testing to the race.
"We are proud and honoured to support UiTM's Eco Photon Solar Racing Team to the leading event. The "ECOPIA with ologic" is tyre engineered with Bridgestone fuel saving technology which is designed specifically for solar cars. The tyre comes with a wider diameter which limits changes in the shape of the contact patch to yield lower rolling resistance, thus improves fuel efficiency. As we continue to design and develop high-performing tyres for such innovative top-level series, Bridgestone also aims to reduce environmental impact via our fuel-saving product," said Michael Chung, Managing Director of Bridgestone Tyre Malaysia.
The third generation Eco Photon Solar Racing Team will be heading on a 3000 kilometre journey from Darwin to Adelaide from 13 to 20 October 2019 with Tigris, the official name chosen for their solar car. The highly optimized carbon fibre solar car which comprises of an upgraded self-built monitoring system with high accuracy measurements and robust safety system to prevent any electrical shortage is all set to compete in the Challenger class, one of the three classes in the challenge.
"With all the improvements from previous car and the new technology implemented, we aim to be on the top 5 in the Challenger class. We are also eyeing for the 'Best Creative and Multimedia' award as well as 'Best Safety Prioritized' award.", said Syazwan, the team's President.
Firmly rooted in the core values of Bridgestone's global corporate social responsibility commitment, Our Way to Serve: mobility, people and environment, The Bridgestone World Solar Challenge embodies that philosophy with their purpose to contribute to the development of solar cars, support young engineers, and contribute to the environment while using a new power source: solar light.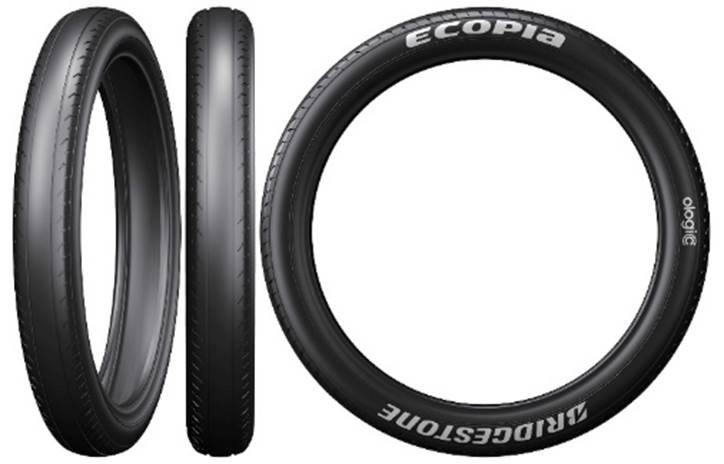 "ECOPIA with Ologic" solar car tyres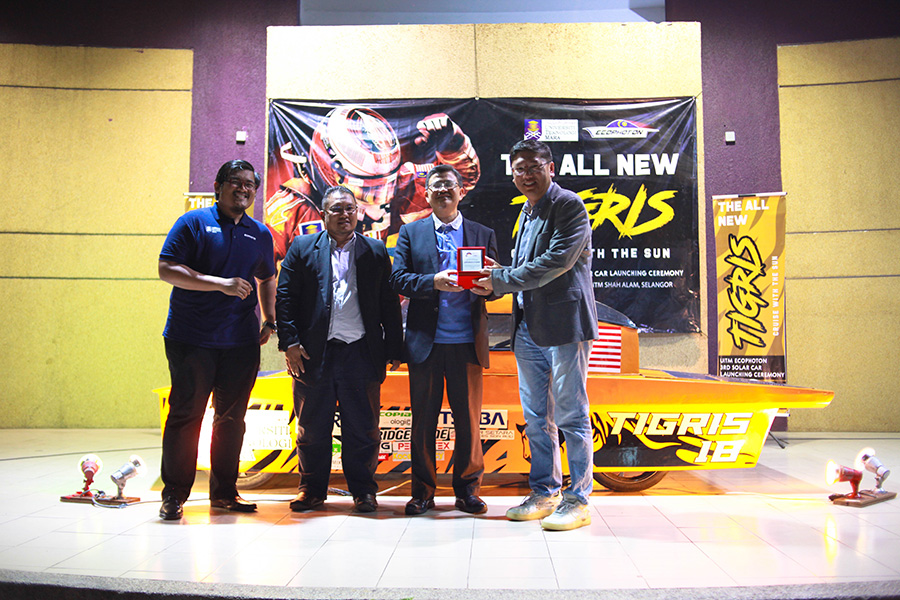 Michael Chung (Right in the picture), Managing Director of Bridgestone Tyre Sales (Malaysia) Sdn. Bhd. received token of appreciation from UiTM Eco Photon Solar Racing Team during the launch of Tigris.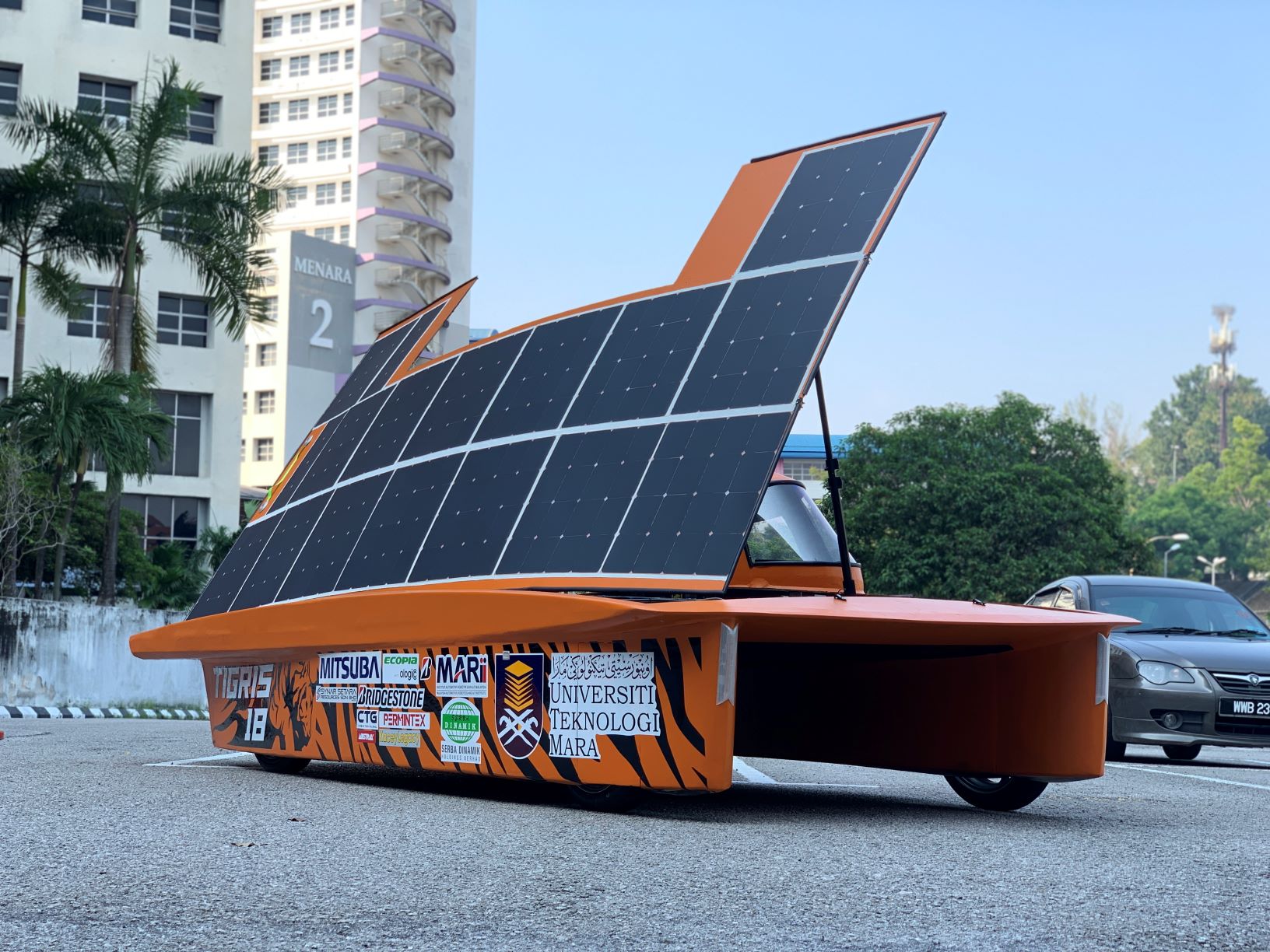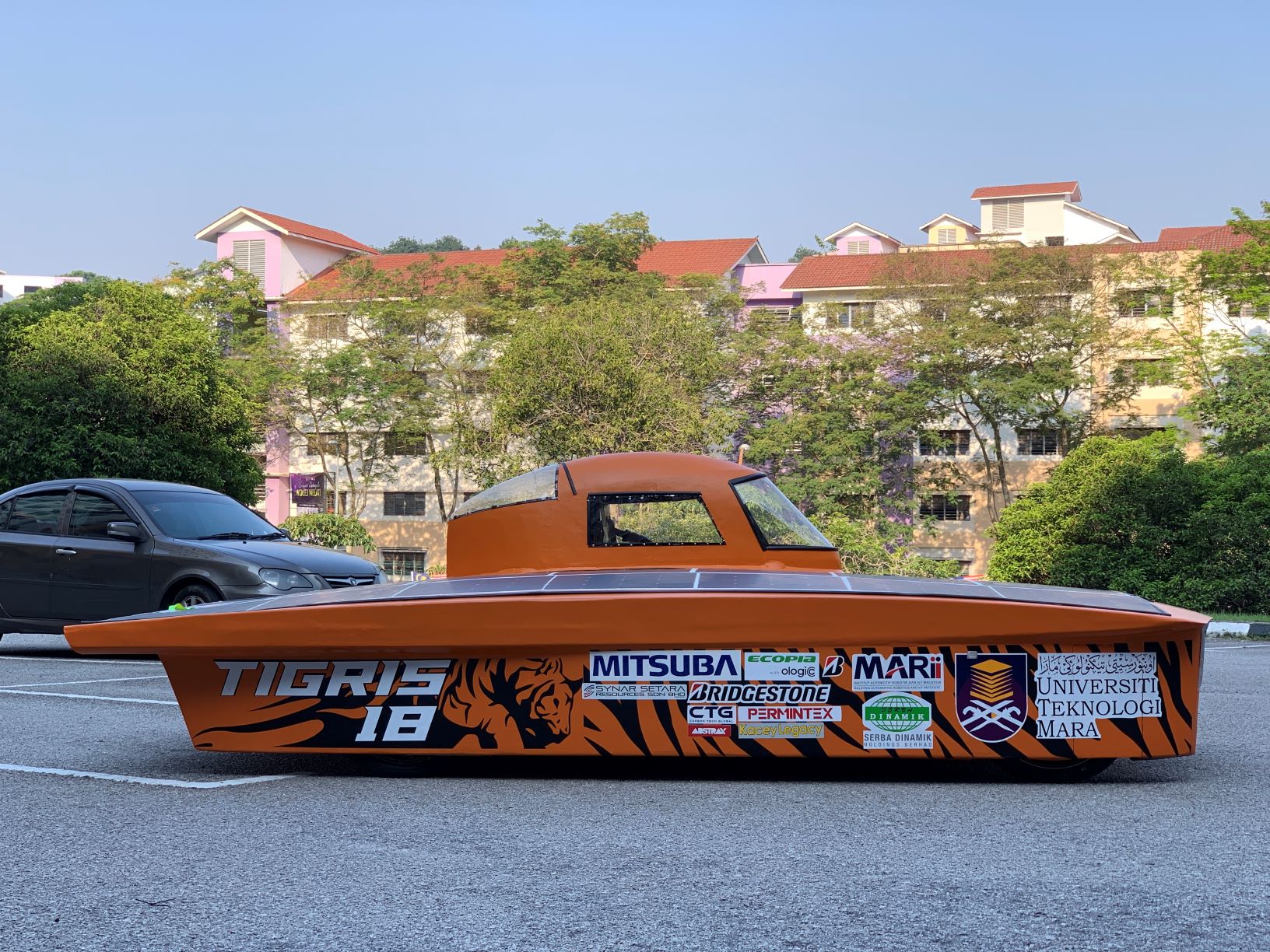 Teams to be supplied with tyres by Bridgestone:
*No.

Team

School

Country /Region

5

SunSPEC

Singapore Polytechnic University

Singapore

7

Adelaide University SolarRacing Team

Adelaide University

Australia

8

Agoria Solar Team

Solar Team vzw

Belgium

9

Onda Solare

University of Bologna

Italy

10

Tokai University Solar Car

Team

Tokai University

Japan

11

SolarCar-Team HochschuleBochum

Bochum University of Applied Sciences

Germany

12

Cambridge University Eco Racing

University of Cambridge

United Kingdom

14

Flinders Automotive Solar Team

Flinders University

Australia

15

Western Sydney Solar Team

Western Sydney University

Australia

16

Stanford Solar Car Project

Stanford University

United States of America

18

UiTM EcoPhoton Solar Racing Team

Universiti Teknologi MARA (UiTM)

Malaysia

25

IVE Engineering Solar Car Team

Hong Kong Institute of Vocational Education

Hong Kong

30

Team Arrow

Team Arrow Racing Association

Australia

35

University of Minnesota Solar Vehicle Project

University of Minnesota

United States of America

37

Goko High School

Goko High School

Japan

40

Solar Team Eindhoven

Eindhoven University of Technology

Netherlands

41

MTAA Super Sol Invictus

The Australian National University

Australia

42

TAFE South Australia

TAFE South Australia

Australia

45

Lodz Solar Team

Lodz University of Technology

Poland

47

NITech Solar Racing

Nagoya Institute of Technology

Japan

49

Siam Technology Motor Sport (STC3)

Siam Technology College

Thailand

51

Chalmers Solar Team

Chalmers University of Technology, Department of Industrial and Materials Science

Sweden

55

Mines Rabat Solar Team

National School of Mines Rabat

Morocco

66

CalSol

University of California, Berkeley

United States of America

75

Sunswift

University of New South Wales

Australia

77

Blue Sky Solar Racing

University of Toronto

Canada

80

Sun Shuttle

Beijing Institute of Technology

China

82

KUST (Kookmin Univ. Solarcar Team)

Kookmin University

South Korea

84

Team Solaris

Dokuz Eylül University

Turkey

88

Kogakuin University Solar Team

Kogakuin University Solar Team

Japan

92

Eclipse

École de technologie supérieure

Canada

98

ATN Solar Car Team

Australian Technology Network of Universities

Australia
*Note: No. represents the number that the team will adorn while competing in the 2019 Bridgestone World Solar Challenge.
Overview of BWSC:
Official Name: 2019 Bridgestone World Solar Challenge
Date: October 13-20, 2019
Host Country: Australia (Start: Darwin; Goal: Adelaide)
Host: South Australian Tourism Commission
Race Classes
(1) Challenger Class
A race to reach the goal the quickest in vehicles designed for speed; vehicles require four wheels and one driver.
(2) Cruiser Class
A race testing vehicles' energy efficiency and practicality; vehicles must have four wheels and be able to be ridden by one driver and more than one passenger.
(3) Adventure Class
A race open to vehicles that are based on the criteria for participating in previous BWSC races or that otherwise do not meet the requirements to compete in the Challenger Class or Cruiser Class.
Global CSR Commitment

"Understanding that Serving Society with Superior Quality is our heritage and our mission, and embracing our responsibility to future generations as a global leader in our industries, Bridgestone and its teammates around the world employ innovation and technology to improve the way people move, live, work and play."
About Bridgestone:
Bridgestone Corporation, headquartered in Tokyo, is the world's largest tyre and rubber company. In addition to tyres for use in a wide variety of applications, it also manufactures a broad range of diversified products, which include industrial rubber and chemical products, and sporting goods. Its products are sold in over 150 nations and territories around the world.
Bridgestone Tyre Sales (Malaysia) Sdn. Bhd. Is an affiliate of Bridgestone Corporation. The company was set up in April 2000 with the aim of providing quality customer service and products for the benefit of Malaysian consumers. The company offers a wide range of tyres, tubes, and flaps for passenger cars, 4x4s, light trucks, trucks and buses, as well as industrial and agricultural vehicles and machinery.