Malaysia, 4 July 2019 – The new premium SUV tyre, Bridgestone Alenza 001 is now available in Malaysia. With its exceptional on-road performance and superior comfort, the ALENZA 001 offers a dynamic and enjoyable driving experience that complements the characteristics of these new SUVs.
The impressive all-round performance of the ALENZA 001 can be attributed to ULTIMAT EYE™ – Bridgestone's proprietary state-of-the-art optimization process and indoor testing facility. ULTIMAT EYE™ gave Bridgestone engineers a clear visualization of the ALENZA 001's contact surface behaviour under actual driving conditions, enabling them to fine-tune its every aspect to ensure it delivers uncompromised performance on the road.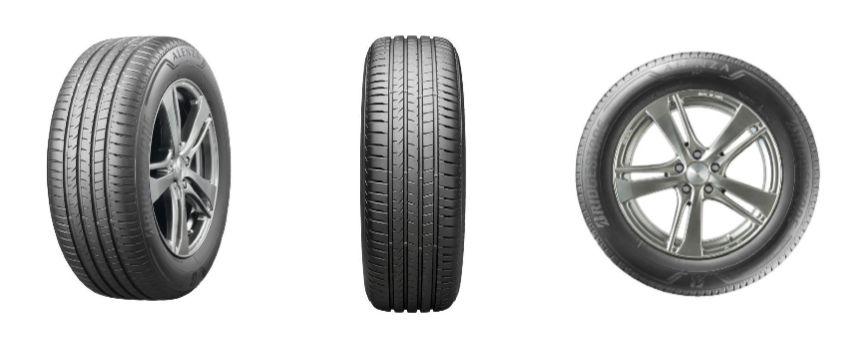 The stellar performance of the ALENZA 001 is further substantiated with a suite of innovative Bridgestone technologies and features. Its Multi-Round Block Structure, for example, helps to significantly improve steering response, straight-line stability, wet handling, and wet braking performance by optimising the roundness of the edge of its rib, giving drivers absolute confidence and assurance throughout their journeys.
In addition, by chamfering the block edges of the ALENZA 001, drivers can rest assured that the tyre will always maintain uniform contact with the road to deliver optimal braking performance during both dry and wet road conditions – especially during emergencies.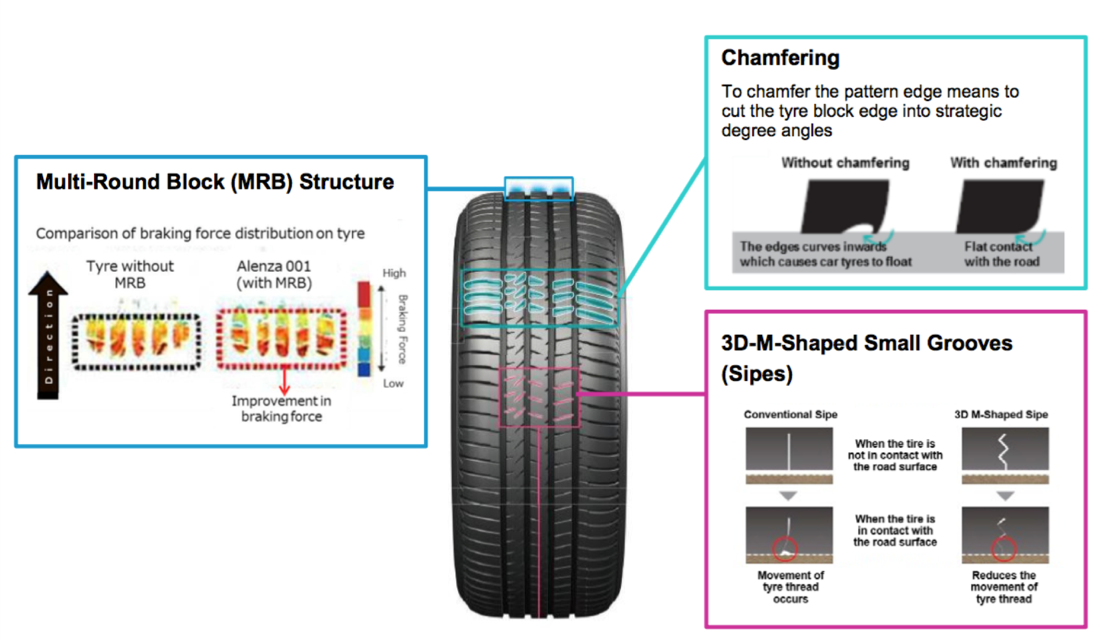 3D-M Shaped Sipe pattern design helps to maximize durability by minimising heat generation and preventing irregular wear by reducing the movement of the tyre tread. In fact, the new tyre compound and special pattern design of the ALENZA 001 allows it to achieve 11% longer tyre life compared to Bridgestone's other SUV tyres1.
As a testament to its excellent all-round performance, remarkable comfort, and strengthened durability, the ALENZA 001 has been selected as the original equipment tyre of the all-new Toyota Rush and Perodua Aruz.
Summary of Key Features
3D-M Shaped Sipes – 3-dimensional letter "M" shaped sipes that reinforce block stiffness and prevent unnecessary block movements when the ALENZA 001 is in motion. This helps prolong its lifespan and provide additional control on the road.


Multi-Round Block Structure – Significantly improves the steering response, straight-line stability, wet handling, and wet braking performance of the ALENZA 001 by optimising the roundness of the edge of its rib.


Chamfering – Helps ensure the ALENZA 001 maintains constant contact with the road surface – especially during critical moments such as hard-braking – by cutting the tyre block edge in strategic angles.
Price and Availability
The Bridgestone ALENZA 001 is available in sizes ranging from 17- to 20-inches and can be purchased from all Bridgestone Authorized Dealers nationwide.
Rim

Profile Ratio

Section Width

Tyre Size Description

Load Index & Speed Rating

20

35

315

315/35 R20 XL

110Y

40

275

275/40 R20 XL

106Y

45

245

245/45 R20

99V

255

255/45 R20

101W

265

265/45 R20

104Y

275

275/45 R20 XL

110Y

50

245

245/50 R20

102V

255

255/50 R20 XL

109V

19

45

285

285/45 R19 XL

111W

50

255

255/50 R19 XL

107Y

265

265/50 R19 XL

110Y

55

235

235/55 R19

101W

255

255/55 R19 XL

111W

18

55

225

225/55 R18

98V

235

235/55 R18 XL

104V

255

255/55 R18 XL

109Y

60

235

235/60 R18 

103W

65

235

235/65 R18

106V

17

60

215

215/60 R17

96H

65

235

235/65 R17 XL

108V
For more information, visit https://www.bridgestonetyre.com.my
1 Lifespan of ALENZA 001 tested against Bridgestone Dueler H/P Sport 255/50 R19 using Lexus RX450.
---
About Bridgestone:
Bridgestone Corporation, headquartered in Tokyo, is the world's largest tyre and rubber company. In addition to tyres for use in a wide variety of applications, it also manufactures a broad range of diversified products, which include industrial rubber and chemical products, and sporting goods. Its products are sold in over 150 nations and territories around the world.
Bridgestone Tyre Sales (Malaysia) Sdn. Bhd. Is an affiliate of Bridgestone Corporation. The company was set up in April 2000 with the aim of providing exceptional customer service and to introduce quality products for the benefit of Malaysian consumers. The company offers a wide range of tyres, tubes, and flaps for passenger cars, 4x4s, light trucks, trucks and buses, as well as industrial and agricultural vehicles and machinery.